How can you become
a more agile practice?
Join our focus group 👇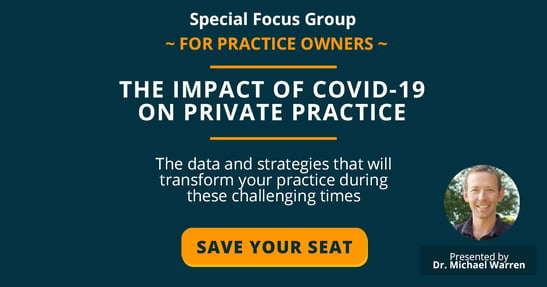 Planning During Uncertain Times
Hi, Dr. Michael Warren here. In today's session, I want to answer the question from our members, how do you strategically plan in times of uncertainty? We are in a new era, and we haven't stabilized yet. So, if you create a five-year plan based on today's results, there's a very high likelihood that that's going to be way off. So what to do? We know if you don't have a strategic plan, then you're just running your business blind and no one has any accountability.

So, how do you set your plans and incentive structures in such times of uncertainty? And the key in these unusual, hard to predict time periods, is to really reduce the timeframe. So for example, if you were incentivizing your team based on targets that were monthly, instead bring this down to a bi-weekly basis, or if you had a quarterly target, bring those down monthly targets and then reassess briefly at the end of that monthly target.
What happens if you DON'T do this?

If you do not do this, your planning is going to be out of date before you even start to pursue it. And if you do do this, everyone is going to get the incentive much more quickly. So they're going to be much more motivated to act and to do the behavior that was the goal of setting up this plan in the first place. And secondly, you're actually going to have a much higher degree of accuracy in setting those different targets. Because at the end of the month, you might be in an entirely different world from the one you were in at the beginning of the month.

So in times of great uncertainty or crisis, really shorten the timeframe when you're setting targets and planning strategically. Be sure to include your reward period in a shorter duration than you would in a normal, stable situation.
What you need to do next ...

Your action point and homework assignment is to assess what sort of timelines you have on targets and determine how can you slice them up into smaller periods. Reduce the incentive structures within your team, so members get the benefit faster. You can react more quickly and as an organization will become much more agile.

As this begins to stabilize, then you can return to that cycle of five years, three years, one year, quarterly, monthly, and then divide that into a weekly meeting and a daily huddle. We'll share more in our following sessions.
Please be sure to subscribe and like this video on YouTube and as always, feel free to reach out if you have any questions!
How to Price Your Products & Services?
How Receptionist Courses Improve Your Practice's Bottom Line